To Drink or Not To Drink Coffee?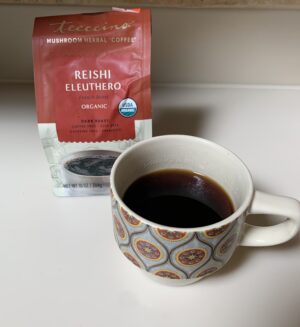 That is the question I get from some of my clients. My answer is: "​Well… it depends."
For many people one or two cups of coffee per day is OK, especially if it's black coffee. What we put in the coffee matters a lot, so the cream, sugar, artificial sweeteners, syrups are not recommended. I go for a bit of coconut milk or organic whole milk. Some people use coconut oil or organic butter, and that's OK.
There are certain people that coffee is not recommended for. For example, if you have fatigued adrenal glands and are dealing with a lot of stress and anxiety, it is better to avoid caffeine. Same, if you suffer from IBS or GERD (acid reflux).
So what can you do instead? You could switch to tea, such as green tea, which is full of antioxidants. You can also try herbal tea or some mushroom herbal coffee, like the one I found recently (Teeccino). This process may take a while, so first I recommend you decrease your coffee intake. Instead of drinking two cups a day, you go for one cup or instead of drinking one cup, you do half cup of your regular coffee and then half cup of mushroom coffee or tea. Then you gradually fully switch to these two options.
The benefits you will notice with the mushroom coffee is more sustainable energy, increased fiber intake and less stress on your adrenal glands.
For more ideas on how to get off of coffee (or soda) and enjoy a more balanced life, book a free consultation using the link below.