Salmon Patties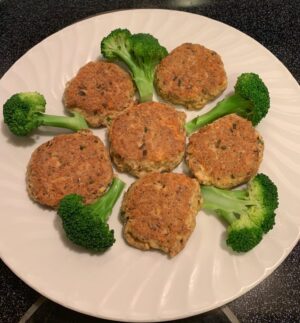 With inflation hitting the wild caught salmon prices pretty hard, I turned to my pantry to discover some cans of this delicious fish. So instead of baked salmon, I decided to make salmon patties. I used a 14 oz can, so I ended up with 6 patties. You will probably get 3 patties from a 7-8 oz salmon can. Check out my recipe below!
Ingredients:
1 can wild salmon ( 7-8 ounces), drained 
1 large egg
1 Tablespoon mayo (makes for better texture, but you can skip this ingredient)
1 teaspoon lemon juice
1 clove garlic (crushed) or ½ teaspoon garlic powder 
2-3 Tablespoons or ¼ cup bread crumbs
1 teaspoon Italian seasoning or fresh chopped parsley
1 green onion finely chopped
salt and pepper
2 Tablespoons coconut, grapeseed or avocado oil for light frying
Preparation: about 20 mins
Drain salmon well (I used a sieve).
Mash the salmon using a fork, then add the rest of the ingredients (except oil) in a bowl and mix.
The mixture should resemble a paste, but if it seems too soupy, you can add a little more bread crumbs to make it thicker.
Put the rest of the breadcrumbs in a dish.
Divide mixture into 3 patties, shaping them with your hands.
Dip the patties into the breadcrumbs, cover on both sides.
Heat oil in a frying pan over medium heat. Sear the salmon patties for 4-5 minutes on each side, until golden.
Serve as a hamburger replacement or with a side of steamed veggies.
Enjoy!