Apple Pastry, No Sugar Added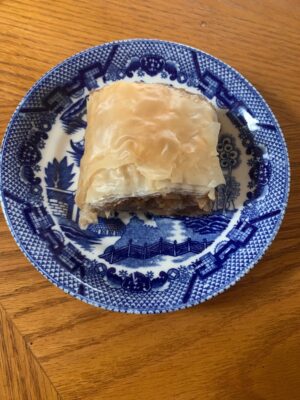 Ingredients:
6 big apples (yellow, less juicy, work best)
Half pack of Phyllo Dough
1-2 tbs cinnamon
1-2 tbs nutmeg (optional)
1 TBS honey
Handful of raisins (optional)
Handful of walnuts (optional)
Avocado or coconut oil spray (or 1/4 lb of melted butter for non-vegan version, to brush the dough sheets)
Preparation:
Peel, then shred the apples or use food processor.
Add the shredded apples to a pot, then bring to a boil over medium heat. Let the apples simmer, then add spices, raisins and nuts. Stir often and cook until apples are soft and not much juice remains. Add the honey at the end.
Let the mixture cool off a bit, then prepare the dough sheets. Open the package (you only need a half pack) and unroll carefully so the sheets do not rip. Split the package in 3, that is usually 6 sheets per apple roll. You will end up with 3 long rolls of apple pastry that you will cut into smaller pieces.
Preheat oven to 350F and get a baking sheet lined up with parchment paper. Lay one sheet on the counter or cutting board, then spray it with oil, then the next, spray it and so on. To cut down the oil you could spray only every other sheet as you lay them on the top of each other. You alternate between the plain/dry sheet and wet ones, until you stack all 6 together. The last sheet will have to be oiled.
Add 1/3 of the apple mixture, along the stack of sheets. Roll the sheet tightly (like a stocking) and make sure when you place it in the baking sheet/ tray the opening faces down. Spray the top of the sheet with oil or (brush with melted butter). Repeat with the other 2 stacks of phyllo dough and apple mixture. You will have 3 rolls/ tubes of apple pastry lined up in the tray and oiled on the top.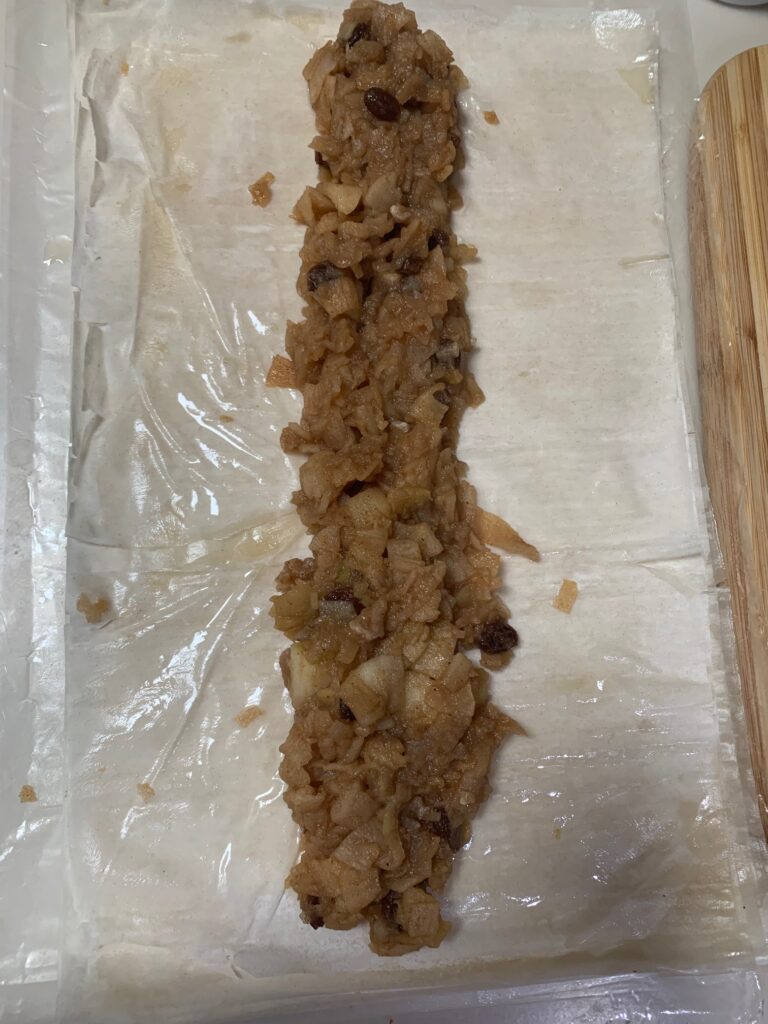 Carefully cut the rolls so you end up with about 2 inch squares/ pastry before you bake. Otherwise the thin dough on the top will crumble after is baked.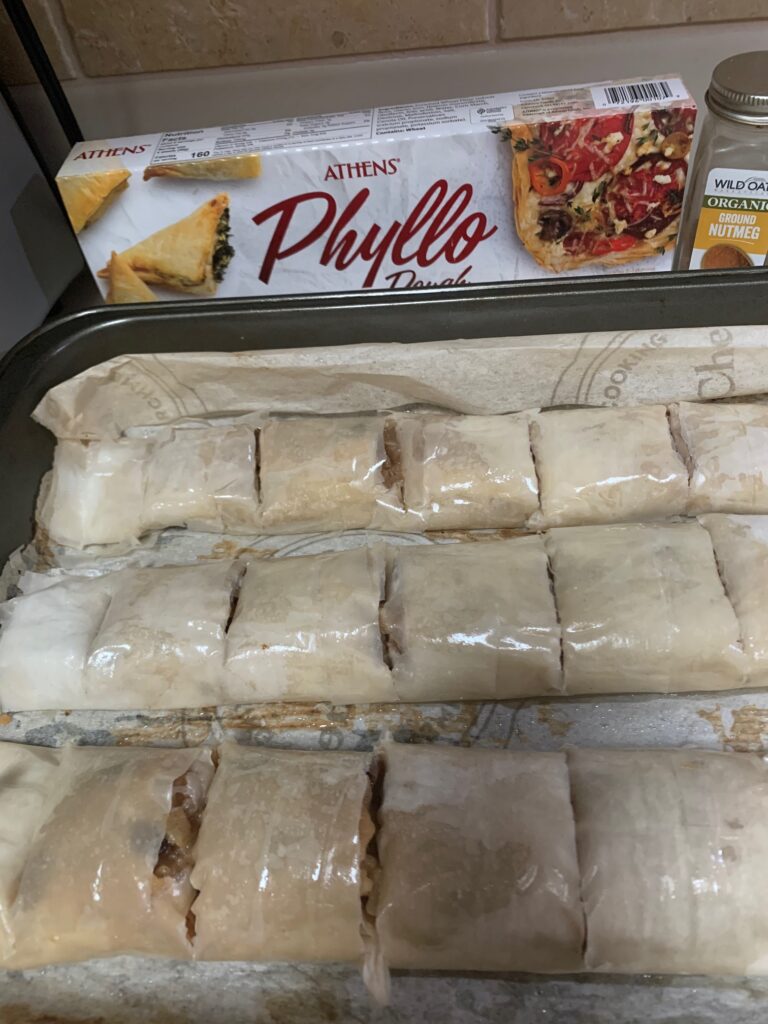 Bake at 350F for about 30 mins. Let it cool 10 mins, then enjoy!