Roasted Cauliflower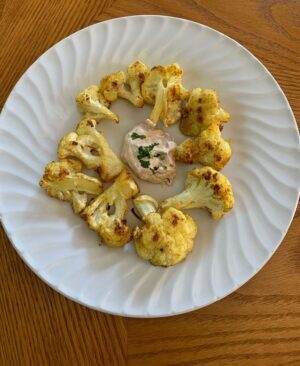 Cauliflower is a very versatile vegetable that is naturally high in fiber and B-vitamins. It's low in calories and rich in antioxidants. It can be adapted to many recipes, from pizza crust to "fried rice". Here is a quick recipe that has a little "kick" to it, mainly from the cayenne pepper and the chipotle chili.
Ingredients:
1 head cauliflower
1 cup sour cream
1/4 cup cilantro, chopped
2 tablespoons olive oil
1 teaspoon chipotle chili powder
1 teaspoon garlic powder
1 teaspoon salt
1 teaspoon cumin
1/2 teaspoon cayenne pepper (or black pepper for less "kick")
Preparation
Preheat the oven to 400 degrees. Cut cauliflower into florets and put it in a big bowl. In a small bowl mix the cumin, garlic powder, pepper, half of the chipotle chili powder (1/2 tsp) and half of the salt (1/2 tsp). Toss cauliflower pieces with the olive oil, then add the spice mix and evenly coat.
Line the pan with parchment paper, then spread the cauliflower evenly and roast for 10 minutes. Turn pieces over, then roast for another 10 minutes.
While the cauliflower is roasting, mix the sour cream with the cilantro and the rest of salt and chipotle powder in a bowl. Refrigerate until ready to serve with the roasted cauliflower. This makes an excellent dip, as the spicy cauliflower is paring well with the rich sour cream flavor.