Moving in Winter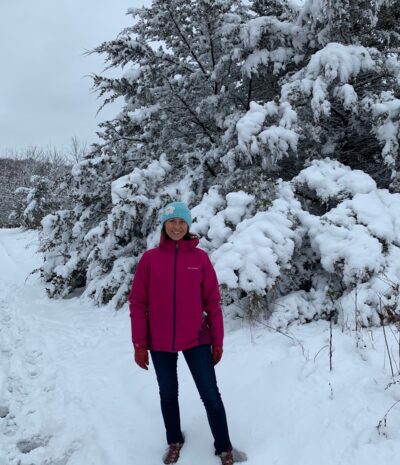 Humans are not made to hibernate. But often time the couch wins over the boots. The days are short, the temperatures are low and we would rather gather in front of the TV with a beer and a bag of chips.
As January is in full swing, I find an abundance of beauty outside. The glittering snow, the immaculate cover over the Derecho hit ground, the animal tracks, and the bright cardinals and blue jays! The nature is calling and I try my best to go spend time in it daily.
Here are my tips to be active in winter:
Get yourself prepared; make sure you have a warm jacket, dress in layers, cover your head and have some good boots so you don't slip and your feet stay warm. My Merrill boots received a waterproof treatment and they seem to protect my feet from cold and wetness very well. I always wear a hat, sometime even a hood, but maybe you don't need one.
Pick the time of the day that works for you, do not make the walk the last activity of the day, because you are more likely to skip it. I try to walk during the warmest part of the day, typically after 1PM.
Get a walking buddy, it makes this activity more fun. If you can't, maybe listen to your favorite podcast while walking outdoors or be curious to see what nature will show you. In my case, I don't need ear buds, I prefer the outdoor sounds.
Try something new, like cross country skiing or snow shoes.
Bring the movement inside for the chill days when being active outside seems impossible. You can find so many online videos about exercising indoors. Maybe you want to join a yoga class. Or…dance class, anyone?
For those days when you catch yourself regretting that you haven't had a chance to move and you only have a little time left, try a high intensity interval exercise such as the 7 Min Lifehack Workout.
As always, when you tried a bunch of things and you feel stuck, reach out to me please, let's brainstorm your options. There must be a way! Just book a free consultation and you will leave with at least one nugget that you are likely to use.