Stuffed Poblano Peppers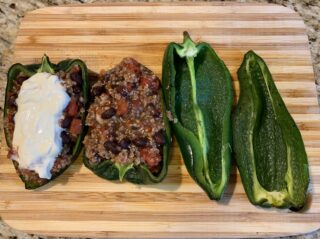 I got this recipe from my student Jan, and she probably got it from her friend Chris, so not really sure who to give credit here. I adapted it just a bit, I really think you will enjoy it. Poblano peppers are mild and have thin skin. They can be substituted by green bell peppers. You can turn this into a vegan dish if you skip the cheese and the sauce, it will still be very tasty. Makes about 8 servings.
INGREDIENTS
1 can (14.5 oz) of diced tomatoes
1 can (14.5 oz) black beans drained
1/2 cup quinoa
1 diced onion
8-10 Poblano peppers or 6-8 regular green peppers
2-3 cloves of garlic (minced)
6-8 oz sour cream
1 lime juiced
2 tbs grape seed oil or coconut oil
2 tsp cumin
1 tsp coriander
1/2 tsp cayenne pepper (optional)
1/2 cup shredded mozzarella (optional)
PREPARATION
Rinse quinoa and cook it with about 1 cup of filtered water (similar to cooking rice). Let it cool off a bit.
In a large frying pan, sauté the onion, then add garlic and continue to cook. Add tomatoes and beans. Add spices, then half of the lime juice. Mix with quinoa. Set aside.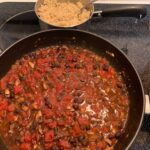 Make sauce by mixing sour cream with the other half of the lime juice. If sour cream is too thick for a sauce, thin with water.
Wash poblanos and cut in half length-wise. Scrape out seeds. Cut stem, but try not to cut off the top of the pepper. Grill or roast them in the oven (about 10 mins at 400F) until soft. Fill with quinoa mixture. Sprinkle cheese on the top. Place under broiler until cheese is melted. Drizzle with sour cream sauce. Enjoy!
For more recipes click below.