Wonderful Sauteed Mushrooms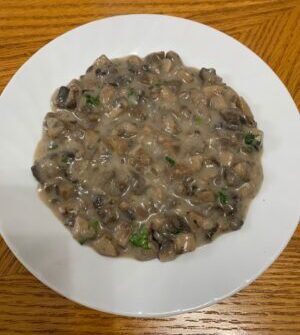 Mushroom are not only very tasty and versatile, but they are also packed with fiber, vitamins, and minerals. Researchers point to this vegetable (actually a fungus…) as a great source of antioxidants (especially selenium). Antioxidants protect the body from damaging free radicals that can cause conditions like heart disease and cancer. Mushrooms also help boost your immune system. Here is a quick Mushroom Sautee recipe (takes about 25 mins), so let's start with:
Ingredients
1 lbs mushrooms or 2 packs of 8 oz prepackaged white, baby Bella or portabello
Half an onion ( chopped)
2 Tbs Coconut or avocado oil
2 Tbs rice flour ( if not avoiding gluten you can use regular flour)
1-2 Tbs full fat sour cream (optional)
1/3 bunch of parsley (chopped )
Salt and pepper
Preparation
Wash/ clean the mushrooms thoroughly, then chop. Heat the oil in the pot, then add the chopped onion. Sauté the onion until translucent, then add the mushrooms. Add half a cup of water, salt and pepper and cook on low heat for about 15 mins stirring occasionally. Then add the flour by sifting above the pot and stirring at the same time, to make the gravy like sauce. Simmer for another 5 mins then add the chopped parsley. Turn the burner off, let the pot cool off for a few minutes and add the sour cream to make the whole dish more creamy. This step is optional if you want to avoid dairy. Enjoy!