Mediterranean Scramble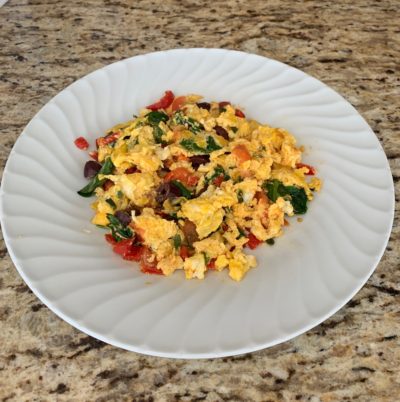 Easy to make, this scrambled eggs dish has plenty of veggies and aside from being delicious, it looks so colorful! This will help you start your day with about 12g of protein, but no worries, you can try this for lunch or dinner.
2 eggs, organic or free range
5 grape tomatoes, halved
5 olives, halved
1 green onion or some chives
handful of greens: baby spinach, kale or collard greens – chopped
parsley (optional)
1 TB of coconut oil
Ingredients:
Heat the oil in a pan, saute the onion/ chives and the tomatoes for 1-2 mins, then add the eggs and scramble for about 3 minutes. Add olives and greens (including parsley if you wish), cook just enough so the greens are wilted and the eggs are done to your liking. Enjoy!