Gnarly Barley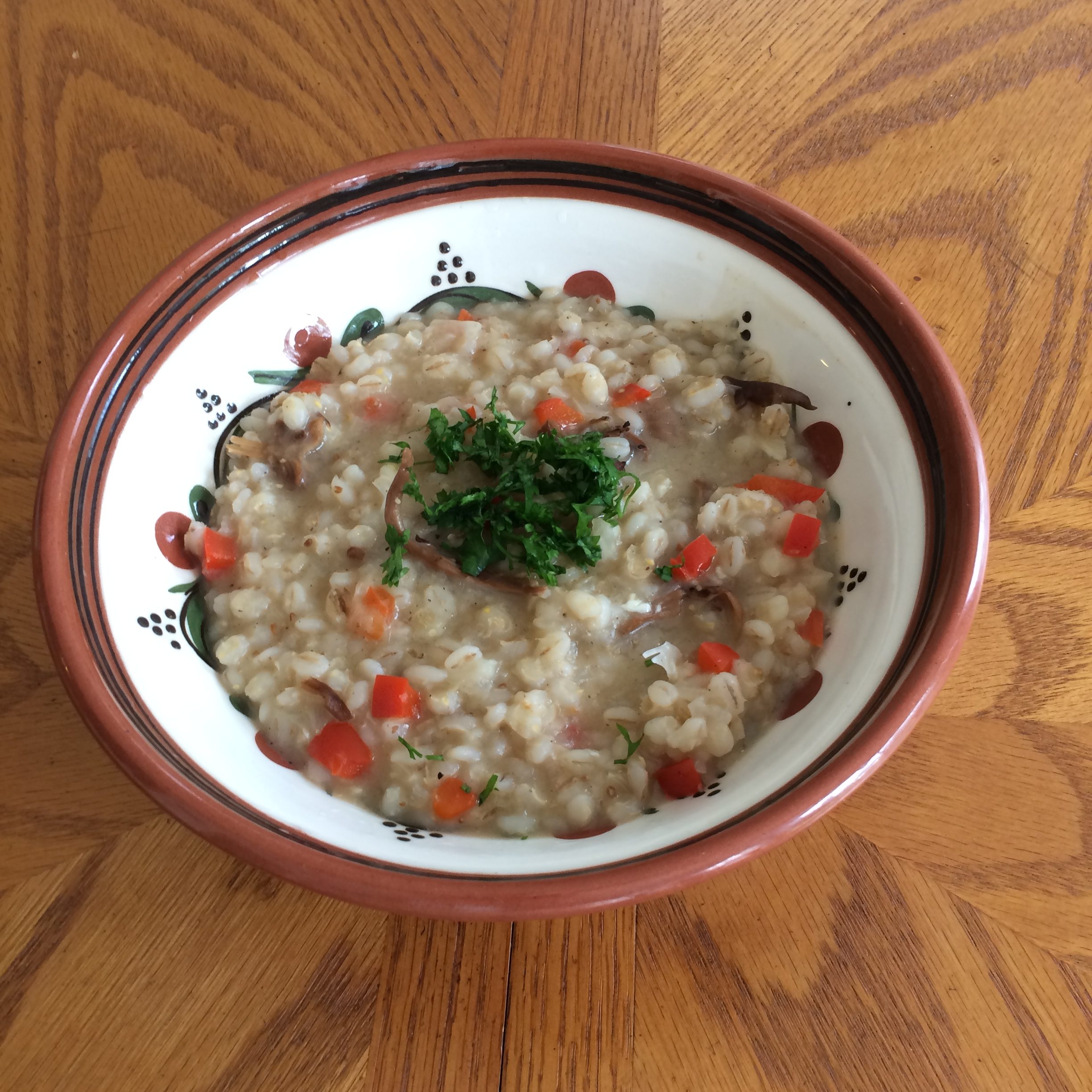 Did you know that barley is an excellent source of molybdenum, manganese, selenium and magnesium and helps lower cholesterol and control blood sugar? Why "Gnarly Barley"? Because my kid decided it sounds funny! Here is a delicious recipe that I presented at the National Czech and Slovak Museum. Be aware: your kitchen will smell really good, it is something related to the combined flavors of garlic, caraway and marjoram. Contact me if you want ideas for how to convert this into a gluten free option.
Ingredients *
• 1/2 cup dried mushrooms or 8 oz fresh, (baby Bella, crimini or dark variety is better). If you use dried, place them into 1 cup water to soak for 30 minutes prior to use.
• 1 cup pearl barley (rinsed well)
• 2 Tbsp melted butter (can substitute coconut oil)
• 2 1/2 cups broth or water
• 1 medium onion
• 1/2 red pepper
• 6 garlic cloves
• 1 tsp caraway seeds (ground)
• 1 tsp dried marjoram
• salt and pepper to taste
Preparation (60 mins)
Wash the mushrooms and either soak them or cut them and set aside.
Melt 1 tbs butter in the pot and add the rinsed barley. Toast the barley a bit but be careful not to burn it.
Once the barley turns golden, add the mushrooms, broth/ water, salt and pepper.
Cook for 45 minutes, stirring frequently and making sure not to let the bottom burn. You may have to add some more broth/water during the process.
When the barley-mushroom mixture has 15 more minutes to cook, finely chop the onions, pepper and garlic and sauté them in the remaining butter. Add the spices, then about ½ cup water and simmer for 10-15 minutes.
Add the sautéed veggies to the barley. Stir to incorporate the ingredients thoroughly, you may need to add more water. Cook for another 5 mins.
If desired garnish with parsley, serve with salad or pickles.
If you wish for a crispier texture you can bake the barley by following the instructions below.
Preheat oven to 350 degrees. Butter a large baking dish and pour in the mix. Bake at 350 for 15-25 minutes, depending on how crisp you like it.
Enjoy!
* Recipe adapted from www.tresbohemes.com