Sautéed Kale and Vegetables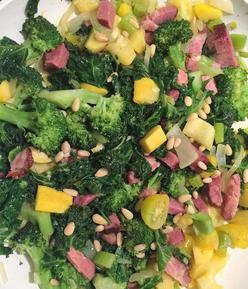 Ingredients:
3 tablespoons grape seed or safflower oil
1 small onion
3 cloves chopped garlic
1 green or red pepper chopped
1 yellow squash
½ broccoli crown
1 bunch kale – washed and chopped
¼ cup water
Few parsley leaves
1 TBS pine nuts or pepitas/ pumpkin seeds
Salt and pepper to taste
Preparation:
Heat oil over medium-high heat in a large frying pan. Add onions and garlic; cook and stir until soft.
Add broccoli and pepper, cook for another 3-5 min
Stir in kale, add water and cook until wilted.  Remove from burner.
Add parsley and pine nuts/ pepitas
This dish could also be enjoyed with some extra protein such as ham or bacon, the kale absorbs the flavor very well. The veggies can be whatever is in season, I even added pear tomatoes, as that was abundant in my garden.