Spaghetti Squash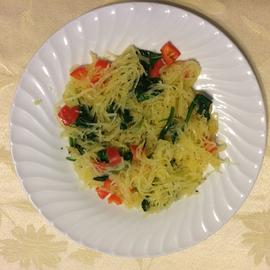 Makes 4 servings
Ingredients:
2 tablespoons olive oil, plus more for the baking sheet
1 spaghetti squash, halved lengthwise and seeded
1 medium onion, thinly sliced
1 teaspoon thyme or oregano
1 red bell pepper, thinly sliced
1 cup baby spinach
Salt and black pepper
Preparation:
Preheat the oven to 350 ˚F. Wipe a baking sheet with olive oil.
Place the squash, cut sides down, on the prepared baking sheet. Prick all over with the tip of a knife. Bake until very tender, about 30 minutes. Remove from oven and let cool for 5 minutes. Turn the squash over and scrape out the flesh with a fork – it will come in long, thin spaghetti-like strands.
Heat the 2 tablespoons of oil in a large nonstick skillet over medium-high heat. Add the onion and thyme; cook until softened and starting to brown, 6-7 minutes. Add the bell pepper and cook until tender, 4 minutes. Add the spinach and cook for one minute. Stir in the squash and cook, tossing until hot and well mixed, 1-2 minutes. Remove from heat and season with the salt and black pepper.