Mung Bean Soup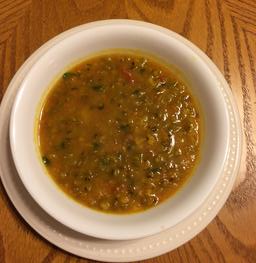 Ingredients:
1 cup dried mung beans (green tiny beans typically found in the bulk aisle)
1 TBS coconut oil
1 onion chopped
2 celery stalks chopped
2 carrots diced
1 TSP ground turmeric
2 cups diced tomatoes (fresh or from the jar)
3 cups water
2 bay leaves
chopped fresh cilantro or parsley or dry Italian Seasoning
salt and pepper
0.5 cups grated parmesan to top (optional)
Preparation:
Soak mung beans for 2-3 hours. Melt coconut oil in a medium pot over medium heat. Add onion and sauté for 3 minutes. Add celery, carrots and turmeric and sauté until just about soft. Stir in mung beans, tomatoes, water and bay leaves, and bring to a boil. Reduce heat and simmer covered for 45 minutes. Remove from heat and discard bay leaves. Stir in cilantro and the rest of the spices.
Add parmesan if you wish. Enjoy!